Spring 2012 Trends
As Ive been studying up on the new fashion trends that are hitting the streets, I wanted to share with you a few so you can be ahead of the game! Of course the normal trends such as lace, color blocking, and peplum skirts are still popular, but there are few more that we've seen slowly pop up! Although some may seem out of the ordinary to say the least, dont worry too much,  with a bit of guidance, they're easy to mock! 
*A little side note- always jot down notes as you read. This way when you shop, you can pull out your handy dandy notes and stay focused on what you need in order to transform your whole wardrobe. All you need are just a few essentials, and you're good to go!
1. Floral Blazer ✔
2. Mint Shorts ✔
3. Fishnets ✔
WRAP UPS
Inspired by "Mexican goddesses", these hair wraps were all over the runways. Try it at home to get instant tribal tresses. Simply braid bits of fabric into your hair, or wrap your favorite scarf around your forehead!
(From top: Mara Hoffman, Hermes, Marc Jacobs)
FISHNETS
If you're funky enough to rock fishnets, now is the time!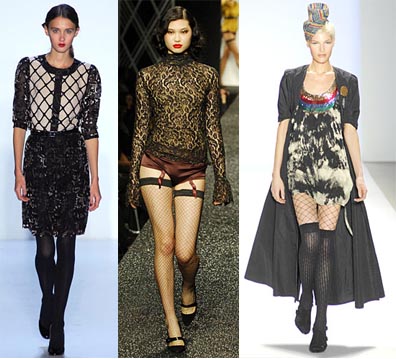 (From left: Verrier, Baby Phat, Sass & Bide)
Levante Fishnet Tights
Free People Chunky Fishnet top
ANORAKS
Light weight jackets with a sporty chic twist.
(From left: Jason Wu, Edun, Tommy Hilfiger)
Michael Kors Zip Anorak 
BOLD PRINTS
From floral frocks, to parrot prints, crazy/bold patterns are a must have for this spring! Pair a bold piece with a basic to make a look less simple.
(From top: Joseph Altuzarra, Thakoon Runway Spring 2012)
Free People Floral Blazer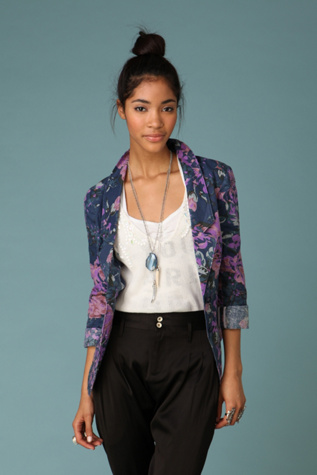 ORANGES, TANGERINES & MINTS, OH MY!
We've moved on from deep greens and burgundy reds to softer, pastel palates and bright eye catchers .
(From left: Steven Alan, Doo ri, Tracy reese)
(From left: looks (1 & 3) Vera Wang, Looks 2 & 4) Jenny Packham)
Paige Denim Jeans Verdugo Leggings Jeans in Mint
VIX swimwear Mali Long Tri Bikini